Get connected with My KCH Health
My KCH Health, Kane County Hospital's Patient Portal is your personal view into the electronic medical records that your hospital, doctors, and nurses use to manage and document your care.
This online resource allows you to communicate with your physicians and nurses, schedule appointments, and view your medical records and lab results in a secure, efficient and easy-to-use manner, empowering you to take control of your health anytime, anywhere.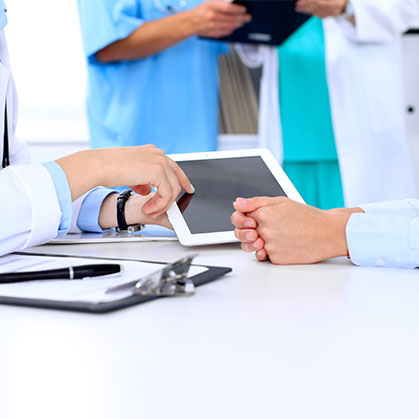 My KCH Health Patient Portal Patient FAQs
How do I sign up for My KCH Health?
Your Kane County Hospital registration clerk or Health Information Management clerk can enroll you in the My KCH Health portal. Just stop by with a picture ID and your email address. You will be sent an email invitation with instructions to complete your enrollment.
How many years of medical records are available?
You will be able to view your medical information as far back as March 2013.
What information is available in the portal?
The portal displays basic lab results, blood pressure results, allergies, radiology reports, your medication list, your list of medical problems, depart summary and patient instructions, as well as your emergency contact information.
Will I be able to see information from my visit last year?
Yes, the information is posted immediately, or for labs and radiology within 72 hours of being complete. You will be able to see your Kane County Hospital and/or Valley Clinic records back to March 2013. Any records before this date need to be requested through Kane County Hospital Health Information Management.
Can I enter my own information into my electronic record?
No, My KCH Health is currently for viewing only. If you feel something in your record is incorrect, please contact us to request a correction.
Can I give my adult child access to my portal?
Yes, an adult patient may designate another individual to have proxy access to their portal account.
Can I see my child's medical information?
Yes, parents and legal guardians can be granted proxy access to their minor children's portal accounts upon request. If the minor child is 13 years or older you must bring the child with you to sign up.
Who do I call for help with the portal?
If you have not received your portal invitation or for any other problems with the portal, please contact the Kane County Hospital Health Information Management clerk at (435) 644-4149 between the hours of 8 AM to 5 PM.
How do I know if I have a message in the portal?
When a message is sent to you through the portal you will get an email notifying you of that message. That email does not include the contents of the message, it simply states that you have a message in the patient portal. At this time, please do not message your provider through the portal as they do not utilize the message center. For any questions directed towards your provider please contact their clinic directly.
Is my health information protected?
Using the portal protects your information and any related communication, unlike email which may not be secure. No one has access to your portal unless you authorize it.