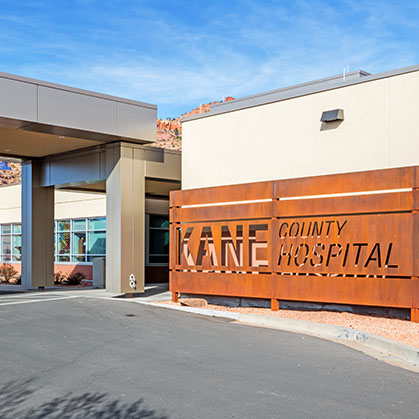 Kane County Hospital is dedicated to quality and excellence as a primary care hospital. We will provide exceptional healthcare with dignity, kindness and compassion.
People are the heart and soul of our services. We must be both individually and collectively dedicated to the achievement of excellence. We will strive to provide a comfortable working environment where all employees are treated with fairness, respect, and dignity. Each employee will be listened to and recognized so that each might have the opportunity to grow and achieve their personal potential. We will provide the best training, both initial and ongoing, to ensure that our people have the technical, managerial, and communication skills required to support our mission. We also believe that each employee should receive fair and adequate compensation for services performed.
Patients are our number one priority and merely providing a quality service is not enough. It means that every employee must realize the integral part each plays in patient relations. We will provide excellent doctors and staff, with modern equipment to work with so we can provide the very best in primary health care. We will continue to bring in specialists that will provide many of the services that are normally done at secondary care hospitals.
Tax Payers will be respected and their tax dollars will be used in as prudent and judicious a manner as possible. We believe in ourselves and the importance of our primary health care services. We dedicate ourselves to supporting the need of our patients and being responsive to the taxpayers. We will plan for our Hospital to continue to meet the needs of our community.
Ethics are important at our hospital. We commit ourselves to set a higher standard of conduct, consistent with our core values. Our work and our conduct will be beyond reproach.