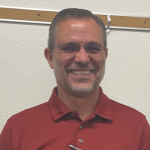 Stuart Allan
Kane County Hospital Trustee
Dr. Allan grew up moving from town to town throughout Utah and Arizona and graduated from Richfield High school. Academic pursuits were put on hold for a mission to Chile and 8 years in the Air Force as an Airborne Cryptologic Specialist, Spanish speaking. Undergraduate work was completed at Weber State University before moving to Forest Grove, OR and attending Pacific University College of Optometry where a Doctorate of Optometry was earned. After graduating, Dr. Allan moved his family to Kanab and started Kane County Eye Care in 1999. Dr. Allan joined the Board of Trustees in 2022.
Dr. Allan and his wife Wendy have three married children and have just started learning how amazing it is being grandparents.
Dr. Allan's interests include old cars and trucks, fishing, woodworking and snowmobiling.