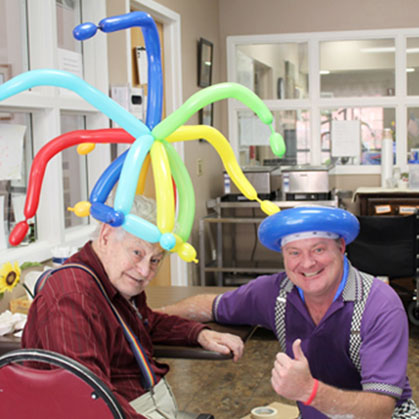 Become a Volunteer and Make a Difference
Volunteers help make miracles happen by lending a hand, sharing a smile, and offering help to patients, staff, and visitors. It is the generosity of our volunteers that make them an essential part of the healing process. Our volunteers change people's lives, and their lives are changed forever as well.
Volunteer Opportunities
We have several individuals and groups that volunteer within the hospital. The Baker Bunch treats the residents in our long-term care area to songs that stir memories. The residents sing along accompanied by the band, as they tap out the beat and reminisce to the tunes they grew up with. We have the ladies who come in and call BINGO and a couple of gentlemen that enjoy making breakfast for the residents. We are also delighted to have individuals who come in and treat the ladies to manicures or anyone who cares to may find one of the local beauticians present to give him a haircut or for the ladies a new hairstyle.
Volunteer Requirements:
Volunteers must be at least 18 years of age.
Complete background check and Influenza vaccination (during flu season).
Volunteers must abide by all patient confidentiality guidelines, customer service expectations, and hospital policies.
In order to become a volunteer at Kane County Hospital your first step will be to contact us at:
Kane County and Events Volunteer Center
76 N. Main St.
Kanab, Utah
(435) 644-3696