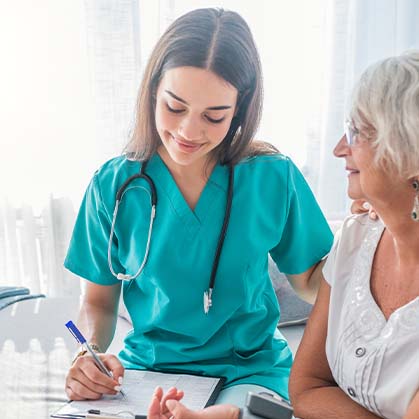 Certified Nursing Assistant (CNA)
Job Summary
The Certified Nursing Assistant performs nursing procedures and patient care tasks, including routine patient care activities that promote patient comfort and contribute to overall patient care.
Performance Responsibilities
Provides for patient's personal hygiene and daily living. This may include providing and clearing bedpans and urinals, providing baths, backrubs, shampoos and shaves, and assisting patients with showers. Assists with meals and feeds patients. Ambulates, turns and positions patients. Provides fresh water and nourishment between meals.
Administers enemas, douches, nonsterile dressings, surgical preps, ice packs, heat treatments, sitz and therapeutic baths, and applies restraints.
Performs I&Os; checks vital signs and weight; performs sugar and acetone urine testing, specimen collection, and post-mortem care.
Works effectively as a team member in the delivery of care. Maintains good working relations with nursing unit staff and other hospital employees through appropriate communication.
Instills confidence in patients by maintaining a neat appearance and performing duties in a competent and caring manner. Report observations of patients to the nurse caring for the patient to ensure professional assessment.
With specialized training and written approval, may perform additional and specialized tasks pertinent to the assigned area.
Required Skills/Abilities
Shows dependability by being punctual; maintains consistent attendance.
Maintains a safe environment for patients and co-workers, transports patients and equipment as appropriate.
Education and Experience
High school graduate preferred.
Successful completion of nursing assistant course or the equivalent and hold a current Utah certification.
Previous hospital experience with acceptable references preferred.
Must pass a pre-employment test for nursing assistant.
Physical Requirements:
Must be able to withstand physical and emotional stress.
Requires long hours of standing and moving.
Must be able to lift/carry 25-50 pounds at times.
Must be able to perform the essential functions of the job with or without accommodation.
Work Schedule:
36 hours per week, 12-hour shifts; varies Sunday through Saturday.
Benefits include medical, dental, vision, health savings account, life insurance, and 457(b) match.
How to Apply:
Applications are available at Kane County Hospital Registration Desk or download an application from our website: https://kchosp.net. Email applications or hand deliver to hospital at 355 N. Main St., Kanab, Utah.