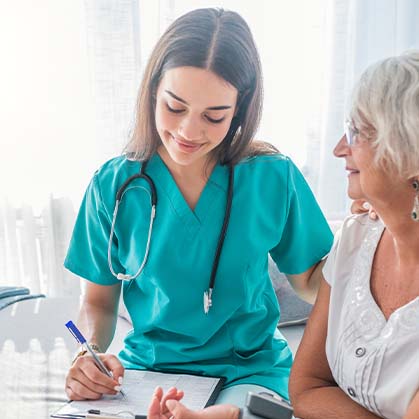 Registered Nurse
Our nurses are simply the best! Care to join our amazing team? With new nurse leadership that is engaged in the success of all nurses, this is a great time to work at Kane County Hospital. Here you will find competitive wages and benefits, flexible schedules, and educational components to keep ahead in the medical field and also learn new skills. There are many opportunities here to learn Emergency Room, OB, Long-Term, and OR because we are a small critical access hospital. Come in, ask for a tour, and meet our Nurse Managers. Don't want to work full-time, we have part-time and PRN positions available as well.
Position Summary:
Registered Nurse will demonstrate proficiency in administering the fundamentals of the nursing process, contribute to nursing assessment and the development of a nursing care plan, and participate in the evaluation of nursing care in a critical access hospital setting.
Duties/Responsibilities:
Supports nursing care standards through adherence to existing policies and procedures for a critical access hospital.
Obtains and documents nursing history from patients and/or significant others that is comprehensive of present condition and prior problems. Performs basic assessment of patients, indicating adequate knowledge of anatomy, physiology, and pathology. Records vital signs, notes changes, and pursues more-specific investigations as needed. Identifies abnormal diagnostic data and shows a fundamental understanding of its implications by reporting information to the physician and others caring for the patient, and by incorporating information in the nursing care plan.
Uses assessment information to develop a care plan before the end of duty time that communicates enough information for incoming staff to adequately care for the patient. Reviews and develops care plans for assigned patients. Includes the patient and his or her family in planning care, establishing priorities, and setting goals.
Uses care plans as a basis for providing safe and therapeutic care to patients. Communicates with the patient and his or her family and other members of the health care team in carrying out the goals of the care plan. Accepts accountability for clinical care of assigned patients including supervision of nonprofessional personnel.
Evaluates and notes the patient's response to nursing care defined in the nursing care plan and medical records.
Assumes responsibility for professional growth by current reading and attendance at educational programs and unit conferences.
Required Skills/Abilities:
Excellent verbal and written communication skills.
Excellent organizational skills and attention to detail.
Excellent time management skills.
Strong analytical and problem-solving skills.
Ability to prioritize tasks and to delegate them when appropriate.
Education & Licensure:
Bachelor degree in accredited nursing program preferred or
Associate degree in accredited nursing program.
Must possess and maintain a valid unrestricted RN license issued by the state of Utah or a compact state.
Physical Requirements:
Must be able to withstand physical and emotional stress.
Requires long hours of standing and moving.
Must be able to lift/carry 25-50 pounds at times.
Must be able to perform the essential functions of the job with or without accommodation.
Work Schedule:
Full-time – 36 hours per week, 12-hour shifts; varies Sunday through Saturday, full benefit package.
Benefits include medical, dental, vision, health savings account, life insurance, paid time off (PTO), and 457(b) match.
Part-time – 24 hours per week, 12-hour shifts; varies Sunday through Saturday (not eligible for medical benefits), paid time off (PTO).
To apply click here.