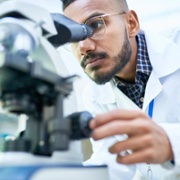 Job Summary
The Medical Technologist assumes responsibilities in the areas of specimen analysis, quality control of tests, equipment maintenance, handling of specimens, monitoring supplies, knowledge of lab procedures, and lab record keeping. The Medical Technologist also applies technical expertise/techniques in all areas of the lab, including but not limited to, performing phlebotomy, arterial venipuncture for blood gases, and blood banking. Performs all routine laboratory procedures. Must cover on-call hours and be comfortable working alone.
Duties of a Medical Technologist shall be performed in a manner consistent with KCH philosophy. Performance of duties must sincerely and positively reflect consideration, concern, and inspire confidence whenever interacting with staff, medical staff, patients, and management.
Performance Responsibilities
Provides timely and accurate lab reports.
Communicates with ancillary personnel, physicians, lab staff, and administration concerning department issues.
Provides data and related materials for test and equipment QC.
Provides accurate records of analysis done and QC of those analyses.
Monitors records of equipment maintenance and service.
The Medical Technologist reports to the Lab Manager.
Follows lab safety procedures.
Follows Lab Quality Improvement Plan.
Performs all routine lab procedures.
Performs other duties as requested by the Lab Manager.
Specifications and Requirements
Education – Bachelor of Science in Medical Technology or equivalent
Training – Education and internship as required by registering board.
Experience – Minimum of 3-5 years following internship. A working knowledge of State and Federal lab standards is required. KCH Medical Technologist must have Generalist experience.
Interrelationships – Ability to work under conditions of frequent interruptions, noise, and pressure. Good mental health to be able to perform under extreme conditions of pressure and stress. Willingness to work with the knowledge that errors may have serious consequences for patients, the lab, and the hospital. Good human relations and communications are essential in order to effectively relate to peers, physicians, patients, and Administration..
Working Conditions – Works in the laboratory with potentially dangerous chemicals and biohazard materials. Works with explosive and flammable materials. Works in a high risk area. Must be able to work alone with no supervision. Often works 10-hour or longer days.
Physical Demands – Stands and walks constantly each day. Stoops, reaches, lifts, and carries heavy objects. Hand dexterity is essential in work. Visual acuity and color discrimination is necessary in analytical determinations. Aural acuity is needed to operate laboratory instruments.
How to Apply:
Applications are available at Kane County Hospital Registration Desk or download an application from our website: https://kchosp.net. Email applications to knuttall@kchops.net or hand deliver to hospital at 355 N. Main St., Kanab, Utah.