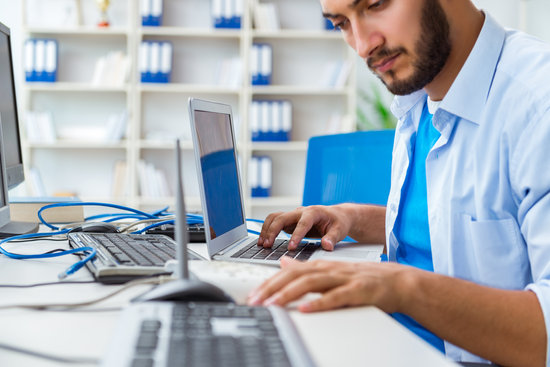 Job Summary
We are looking for a high energy positive person who enjoys helping others. The Support Services Technician will troubleshoot and maintain all hospital systems and provide technical assistance and answers to users' questions.
Duties and Responsibilities
Identifies, investigates, and resolves users' problems with computer software and hardware.
Fields support calls, chat, email, and/or other communication from users with inquiries regarding software programming, connectivity, printing, and similar concerns.
Consults with users to determine steps and procedures taken to identify and resolve the problem.
Applies knowledge of computer software, hardware, and procedures to solve problems.
Guides users through diagnostic and troubleshooting processes, which may include the use of diagnostic tools, software and/or following verbal instructions.
Collaborates with other staff to research and resolve problems.
Maintains knowledge of technology innovations and trends.
Assists with network systems, installing new hardware and modifying existing hardware, and related network software and applications.
Installs and maintains peripheral devices including printers, switches, routers, and other equipment.
Communicates with end users to understand and troubleshoot problems.
Assists with email and intranet services, adding and removing users and accounts.
Collaborates with direct report to review and analyze hardware and software needs.
Performs other duties as assigned.
Required Skills/Abilities
Excellent interpersonal and customer service skills.
Proficient with Microsoft Office Suite or related software.
Basic understanding of existing network programs and capabilities.
Excellent organizational skills and attention to detail.
Strong analytical and problem-solving skills.
Education and Experience
Associate degree in Computer Science or equivalent experience preferred.
At least three years of experience in network maintenance and user technical support preferred.
A+, Network+, and/or similar certifications are highly preferred.
Physical Requirements
Prolonged periods sitting at a desk and working on a computer.
Must be able to lift 35 pounds at times.
How to Apply:
Download an application from this website or pick one up at the Registration Desk at the Hospital.  Email applications to knuttall@kchosp.net or hand deliver them to the hospital at 355 N. Main St., Kanab, Utah.